Healthcare IT, FinTech, Energy, and more.
Subject Matter Expertise You Can Count On
Since 2010, our team has been taping into Silicon Valley's best in-class creative problem solvers software engineers to build custom digital solutions in order to gather, process, analyze, and visualize complex data.
We take on a strategic partner role as a subject matter expert in advising our valued clients. This was specially true with Healthcare, Finance, Energy, and Hospitality clients are seeking a catered guidance in achieving their digital transformation goals in a quickly changing technological and regulatory landscape.
HealthTech

Patient Scheduling
Accessible physician calendar and scheduling tools put patients on the driver seat to finding time to book themselves.
HealthTech

Revenue Cycle Management
Facilitate patient-provider-payer financial cycle by automating clinical, medical billing, clearinghouse, and payer systems.
HealthTech

Reminders and Notifications
Appointment reminders increase patient visits and reduce no-shows through auto reminders and notifications.
HealthTech

Coding Management
Streamline the process and reduce resource burden through Computer Assisted Coding (CAC). ​
HealthTech

Claims and Billing
Reduces financial leakage and delayed payments by automating the collection of funds for services rendered.
HealthTech

Perscription and Refills
Increase patient access with automated refill requests, physician confirmation, and pharmacy routing.
FinTech

Account Setup & Management
Online account creation allows customers to have immediate access to account balance, statements, tax documents, and the ability to transact between accounts.
FinTech

Ledning & Financing
With the help of an accessible web-based loan application solution, loan processing can be automated to curate personalized offers, calculate financing, manage billing.
FinTech

KYC, AML, & Risk Management
Automating the KYC and AML process (collect and verify personal data) is a significantly accurate and quicker path to compliance and risk management.
Cloud-based, intuitive quoting, invoicing, recording, and reconciliation is imperative for every business to accurately manage their accounting.
FinTech

P2P Payments and Remittance
Fast and cost-effective P2P and cross-border payments are the fastest trends in FinTech. They are already here and quickly becoming the standard.
Enable customers and internal team to quickly access beautifully visualized intuitive reports such as Balance Sheet, P&L, tax documents, etc.​
Energy & Utility

Energy Trading
Energy companies can shift the role of analysis to high-value tasks by freeing up their hands with the automation of repetitive tasks.
Energy & Utility

Meter Reading & Validation
Automated meter reading validation reduces time and cost, while flagging errors, leading to fewer complaints and better customer experience.
Energy & Utility

Account Setup & Management
Automated rule-based customers account set up and management increases accessibility and transparency of your business.
Energy & Utility

Issue Tracking & Management
Electric and gas companies can use automated chatbot to develop deeper insights into customers' needs while addressing and resolving complaints.
Energy & Utility

Billing and Accounting
Automating price calculations, payment processing, reporting, and data management can deliver in up to six times in return on investment.
Energy & Utility

HR and Procurement
Digitized management of internal end external people, inventory, and contract records streamlines compliance, reporting, and overall business.
Hospitality

Booking Management
Online booking system and management (availability, check-in, check-out, cancellations, reminders, and notifications) resources and cost.
Hospitality

Loyalty and Client Relations
Boost guest experience through personalized suggestions, special offers, and other marketing campaigns by analyzing data, history, and trends.
Hospitality

Competitor Pricing Analysis
Stay competitive through automated competitor analysis and insights, leading to better customer experience, employee satisfaction, and more profit.
Hospitality

Regulatory & Compliance
Automated accurate and fast inventory and financial accounts auditing/reporting provide organizational transparency and compliance.
Hospitality

Claims & Issue Tracking
Automated issue tracking and management system streamlines pathways of support to address client needs and resolve issues.
Hospitality

Service Requests and Billing
Automate high-frequency, rule-based, repetitive processes such as invoicing, claims processing, bills and payments, reminders, and so on.
Enterprise Software Services
Your business needs a reliable software solution to provide mission critical support to achieve organizational objectives. Built iteratively to scale, it should automate and support cross-departmental processes, collect large amount of organizational data, process complex data to output insightful analytics, leverage business intelligence to improve widespread organizational performance, and ultimately grow business.
Some business needs require custom software solutions that can't be met by off-the-shelf alternatives. Bespoke solutions for enterprise systems call for specialized set of tools, expertise, and ongoing support. Leveraging industry standard technology stacks, our team develops tailored software solutions to address specific challenges. 
Learn more about how our team can help you define your business requirements to iteratively develop and release scalable solutions.
The right 3rd party cloud solutions significantly improve business process efficiencies. Equally important is the consideration of how these solutions integrate with existing systems your team depends on and how they fit into the overall workflows of your company. deBreeze has successfully integrated enterprise software infrastructure for a variety of sectors to support information, resource planning, customer relationships, sales and marketing automation and so on. 
Learn more about how you can benefit from enterprise cloud integrations.
Legacy systems critical to daily operations should evolve to fulfill changing business needs and industry standards. Limitations and inefficiencies caused by outdated systems cause hamper productivity, experience, and overall growth. Starting with an in-depth technical audit, our team will help you identify system inefficiencies and curate a actionable solutions. 
Learn more about how you can prepare your legacy system for the digital future and improve your organization's agility and efficiency.
Mobility and Accessibility
With capabilities like geo-locations that are unique to mobile devices, enterprise mobile applications present opportunities for personalized engagement with a targeted audience. They empower the sales teams managing customer journeys, account teams to increase their ability to manage expectations, HR teams to provide employee accessibility, and all teams to collaborate. This enables the business to capture valuable engagement data that provides actionable insights to iteratively personalize, optimize, improve customer experiences.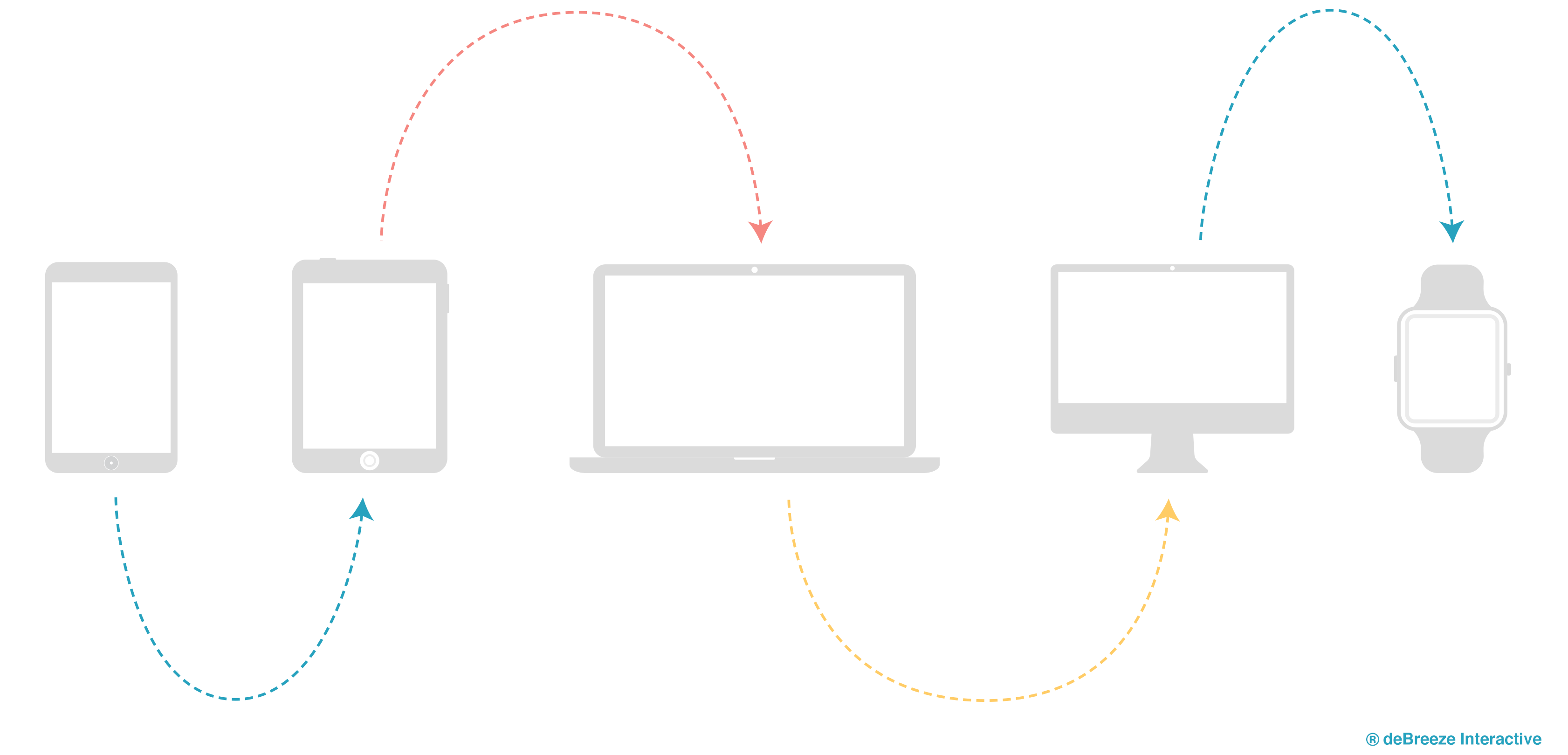 It's time for enterprises to drive growth not only by delivering experiences that go beyond digital touch points but also delighting customers with seamless cross-channel experiences any time, any place.
Native mobile applications present new opportunities for designing unique gesture interactions to deliver experiences. Other content is suitable to be served through web that is optimized for mobile. A hybrid approach—optimized web pages for wrapped in a mobile application—is catching on quick.
It is not enough that users can view their data on their mobile devices; they want to continue their interaction across multiple devices, as part of a seamless customer journey. Users have become device-agnostic and expect the enterprise portal to provide a smooth and consistent cross-channel experience.