Made in a Free World believes that slavery never ended, instead, it just took other forms. Working in sweatshops and supply chains may are still enslaved to support the lifestyles of most of us. Thus, MFW wants to solve it.
Slavery Footprint is an app that walks users through a beautiful and intuitive survey, performs a series of data processing, and provides a customized result of how many modern-day slaves work to support our lifestyle.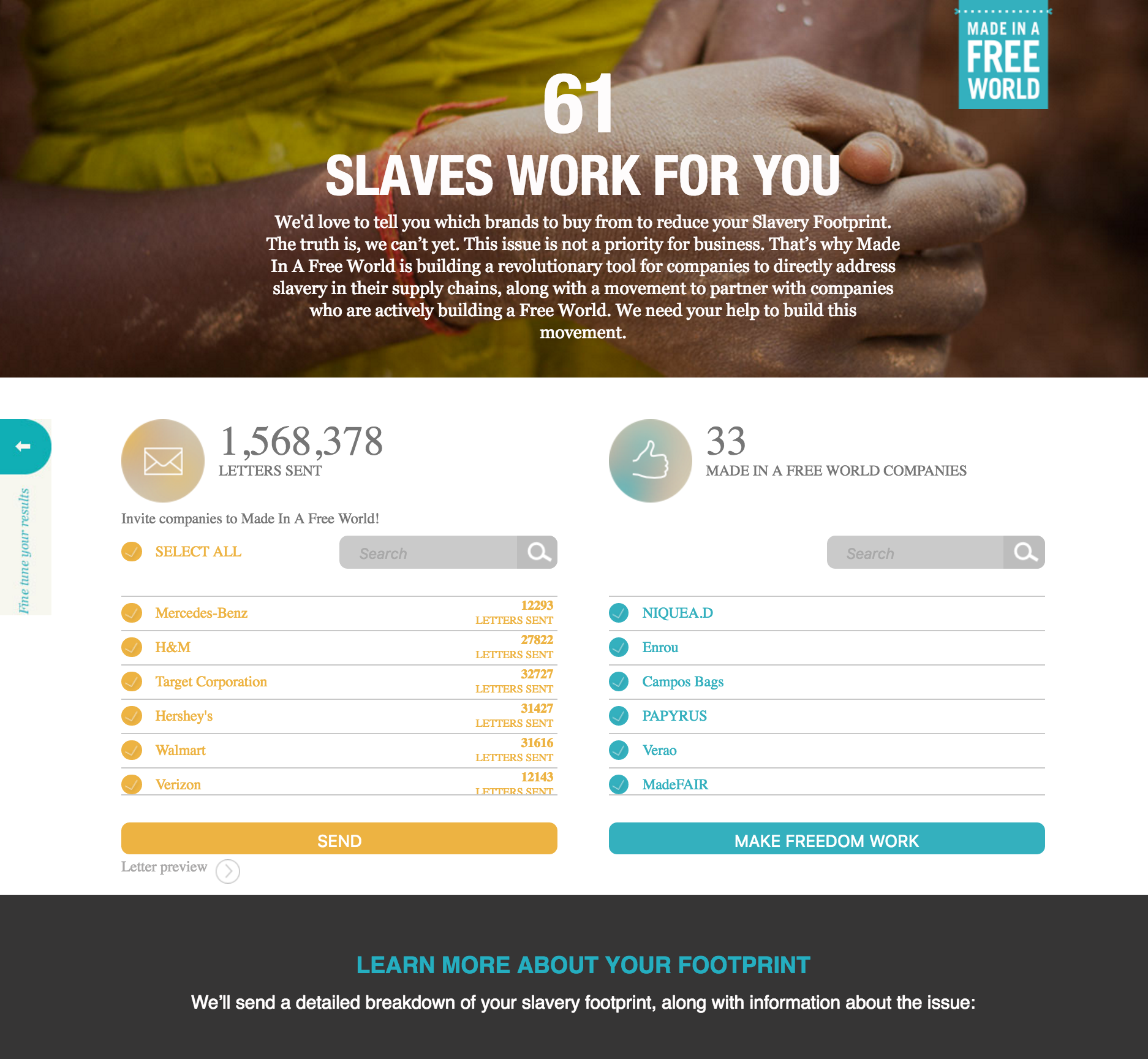 Powered by an extensive database and location-based API integrations, the app lists all of the businesses around the user's current location. The user is then empowered to take action to offset their personal "slavery footprint" by selecting the business they are shopping at.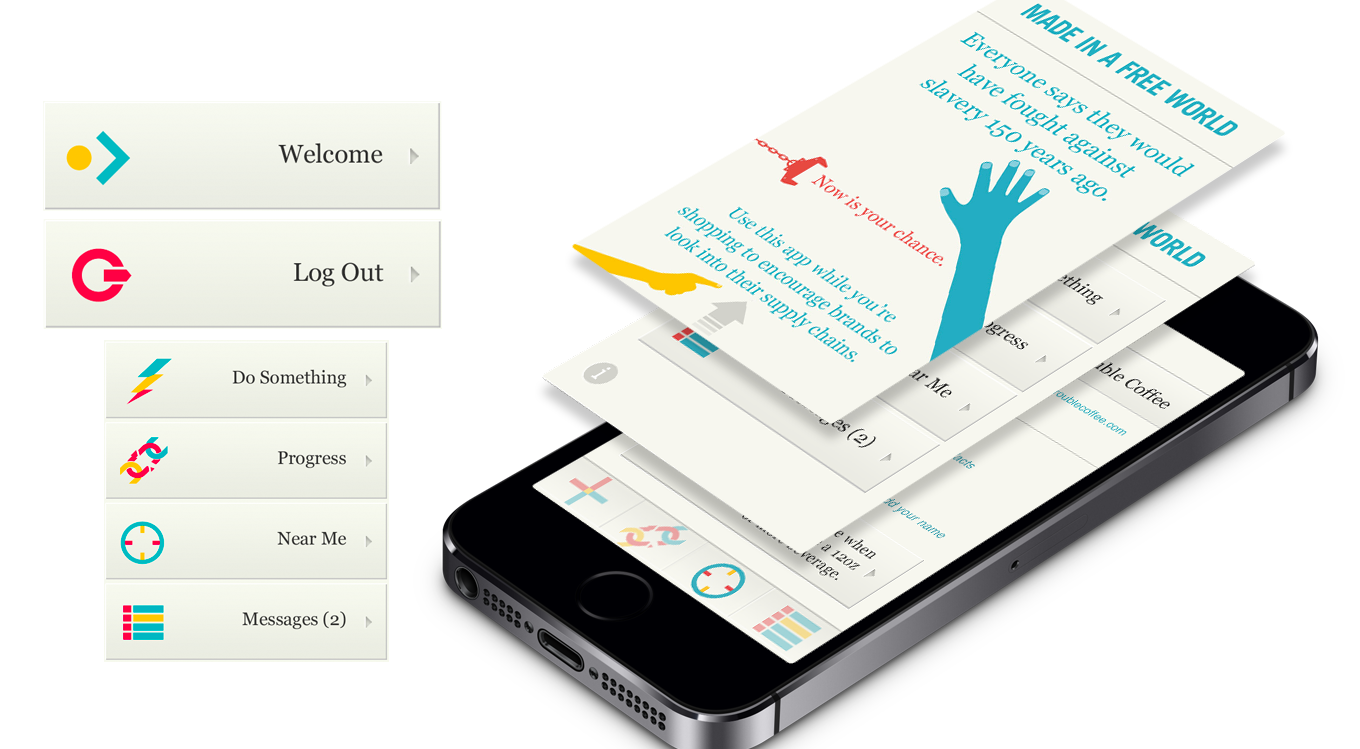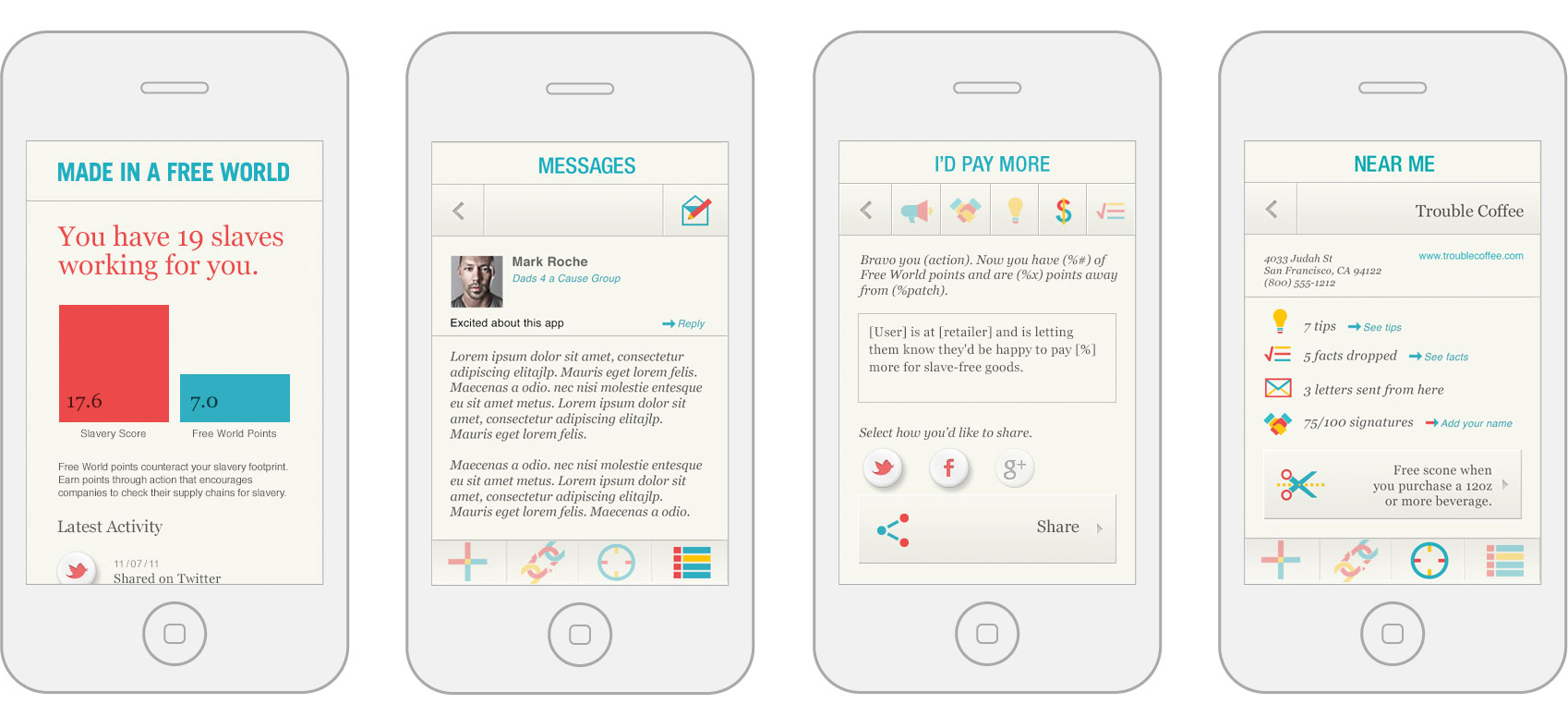 Users are rewarded with Free World Points when they take any of the above actions. Each action has a different value, and the points are then tallied to go against the user's "Slavery Points", points assigned to the lifestyle of each user supported by slaves.
Individual users keep tracks of their Free World Points in comparison to their Slavery Points. They are also able to share that with friends in Social Media.
The platform provides retailers and brands a powerful insight into the voice of their customers and improve upon to cater them in the best way possible.
Messaging & Notifications
The built-in messaging feature enables MFW to send bulk messaging, notifications and marketing campaigns to all users as well as select users segmented by reward points. Users are also able to message with each other.

A user can take actions such as send a note to a friend, recruit a friend for an action. They are also empowered to leave a helpful tip about the business or drop a fact in support of or against the business. Another feature allows the user to inform businesses how much more they are willing to pay for the product if the business is not to use forced labor.
When the user selects a shop, all brands sold in that store are listed on the app. The user then selects a brand (e.g. Dove) and send a note directly to the brand owners asking if their products have a supply chain that does/not involve forced labor.
The user can add her or his name to an existing petition demanding the specific brand or retailer to start working towards a slave-free world by adopting the Made in a Free World standards.
Users can also leave a tip about the retailer or any associated brand to the retailer on the app that other users would find helpful. For instance, they can point users to a specific chocolate in the retailer that is slave-free.
Using an intuitive slider, the "I'd Pay More" feature enables users to slide to a dollar value they are willing to pay, on top of the list price of the product, to ensure that its free of forced labor. This will give brands the insight of how many of their customers are willing to pay how much more for the brand to adopt the Made in a Free World standards.
Users will also have the option to drop random facts in relation to the specific retailer or products sold by the retailer.